David Scott Bruce
Gallery
I experiment with a lot of different styles. I go back and forth and grow within each style I like. And although I prefer abstract for it's loose, free expression, I have recently begun doing more figurative work again. And faces. I love faces. There's nothing more expressive than a face.
So, I've found it interresting to group the work according to these styles, rather than chronologically. My first one is Faces and we'll just disect my work from there.
---
Faces:



-> Click here to see more faces.
Figures



-> Click here to see more figures
Abstracts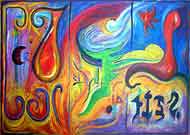 -> Click here to see more abstracts
Drawings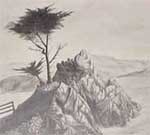 -> Click here to see more drawings
---
I ramble on in my Artist Statement So unless you want to see me at my most analytical and self grandizing, don't bother. Instead, read this .
To see the virtual reality 2002 Cn3D show at ArtyPants Gallery, click here.