Welcome to my Burningman Page

I was introduced to the Burning Man celebration in 1993 and that year as we rolled our dust caked rental car out onto the playa little did we suspect all that awaited us. It was already dark and the air had a festive mood, possibly sulfur from small freeform fire works displays that were beginning in nearby camps. That night we Danced to the wacky groovy sounds of "Three Day Stubble" a band, that like its name, could sneak up on you very quickly. The music, the people, the pyrotechnic displays, and a good dose of "courage" gave me what it took to explore and exploit the night. I remember at some point in the evening, three of four A.M., I found myself and my companion Michael Read wondering the playa rolling from camp to camp in a liberated wheel chair carrying an ax and mumbling about murder and mayhem (all quite harmlessly I assure you). In the morning we found no corpses in our camp.
As we awoke to our camp we noticed in the center of the main camp a huge banner was displayed with two words "NO SPECTATORS" This was a place of participation. The desert was our stage and life amongst the spirits and elements was the passion play.
Living dancing playing creating all are nurtured in this place.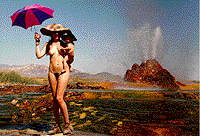 Now I return every year to see what the desert has for me.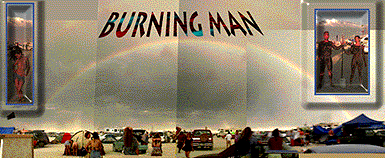 Click This

To Go To Inside My Head

Click This

To Go To The Burning Page